About Indore Kendra
Yogoda Satsanga Society of India (YSS) was founded by Sri Sri Paramahansa Yogananda in 1917. The objective of YSS is to disseminate the ancient scientific meditation techniques and teachings as taught by Paramahansaji. These timeless teachings and meditation techniques help an individual in achieving all-round success, well-being, and a direct personal experience of God. ...
News and Announcements View All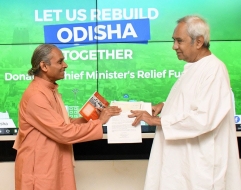 YSS Relief Work in Odisha
Cyclone Fani was the strongest tropical cyclone to hit India in 20 years. It made landfall in the eastern coastal city of Puri in the Odisha state on Friday, May 3, 2019, causing much destruction...
Read More
SUBSCRIBE FOR UPDATES AND NEWS
You can now subscribe to receive the latest updates, happenings and events from Indore Dhyana Kendra