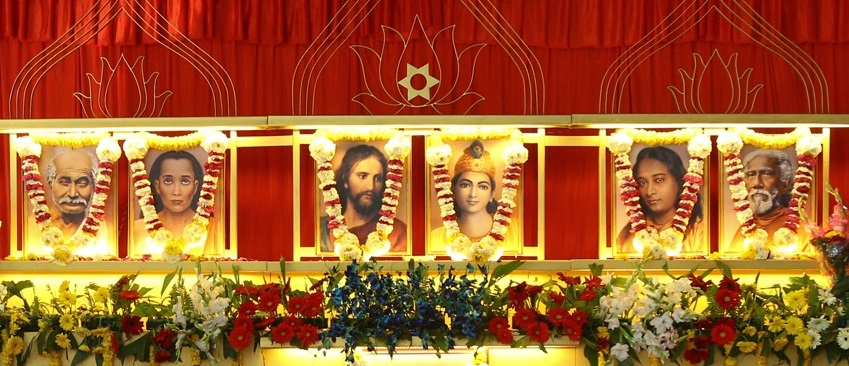 Yogoda Satsanga Society of India (YSS) was founded by Sri Sri Paramahansa Yogananda in 1917. The objective of YSS is to disseminate the ancient scientific meditation techniques and teachings as taught by Paramahansaji. These timeless teachings and meditation techniques help an individual in achieving all-round success, well-being, and a direct personal experience of God.
YSS has more than 200 meditation centers across India to help all Truth-seekers to participate in group meditations, and to foster spiritual fellowship. In the words of Paramahansaji: "Group meditation is a castle that protects the new spiritual aspirants as well as the veteran meditators. Meditating together increases the degree of Self-realization of each member of the group by law of invisible vibratory exchange of group magnetism."
Yogoda Satsanga Dhyana Kendra in Indore is located in the suburbs of Indore city. The Kendra originally started functioning as a small Dhyana Mandali in 1975 at the residence of Sri Brijinder Lal in South Tukoganj in the main city. A small group of around 10 devotees would meet every Sunday for group meditation. Later, the mandali had to shift to various places – Saket, Anoop Nagar, Vijay Nagar, and then to Sukhliyagram. As the number of devotees increased over the years, it became necessary to have a more permanent and a larger place.By the blessings of God and Gurus, in the year 2000, a big farm-house in village Datoda on Khandwa Road was offered by Smt. Perviz Ginwala for group meditations. The center has continued to function at this place ever since.
Swamis Sharanananandaji and Bholanandaji were the first YSS monastics to visit Indore Kendra. Swami Bhavanandaji conducted the first Kriya Diksha ceremony in 1988. Since then, many monastic-led programmes and Kriya Diksha ceremonies have been conducted in Indore in 2003, 2006, 2009, 2012, 2015, and 2017.
Spiritual activities at the Kendra include weekly group meditations on Sundays, and holding special commemoration services in honour of YSS Line of Gurus throughout the year. The commemorations include Guru Purnima, Mahavatar Babaji Smriti Diwas, Krishna Janmashtmi, Christmas, the Avirbhav and Mahasamadhi Divas of Lahiri Mahasaya, Swami Sri Yukteswar, and Paramahansa Yogananda. In addition, the Kendra serves the poor and needy by organizing charitable activities such as medical camps, distribution of shawls, etc.; and reaches out to Truth-seekers by setting up stalls in Book Fairs, and organizing Open House programmes. In 2016, the devotees of Indore and other surrounding districts helped in setting up a book stall at the Simhasth Kumbh Mela in Ujjain. All the YSS publications were made available for sale during the Kumbha Mela.
Other special activities conducted in the past are mentioned here.
MEDITATION SCHEDULE
| | |
| --- | --- |
| Activity | Timing |
| Every Sunday group meditation | 9:00 am – 11:00 am |
| First Sunday of the month | 9:00 am – 1:00 pm |
| Office Timing | 9:00 am – 4:00 pm |
The temple is usually open to the devotees wishing to avail of individual meditations on all days. However, it would be advisable for devotees to make a phone call tothe Kendra before arriving, just to ensure that there is someone present at the location when they arrive.
The Kendra Office is open for all spiritual seekers on all days. The office primarily attends to the sale of YSS publications including books and CD/DVDs, receipt of donations, addressing inquiries related to YSS activities and other office work.
Address:
C/o Smt. Perviz Ginwala
Village - Datoda
On Khandwa Road
Adjacent to Vivekanand Engg. College
Kasturbagram
INDORE – 452020
Dist. Indore, Madhya Pradesh
Phones: 09755666166, 09981163332, 09755097712
E-mail: [email protected]